Welcome Pack
Welcome to Connecting Scotland – we're absolutely delighted to have you join us as a delivery partner in your local community.
This page contains the information you need to know to deliver your commitments to the programme, as outlined in your grant agreement (see template agreements for families & care leavers or older & disabled people).
Here's an overview of the key steps you need to take: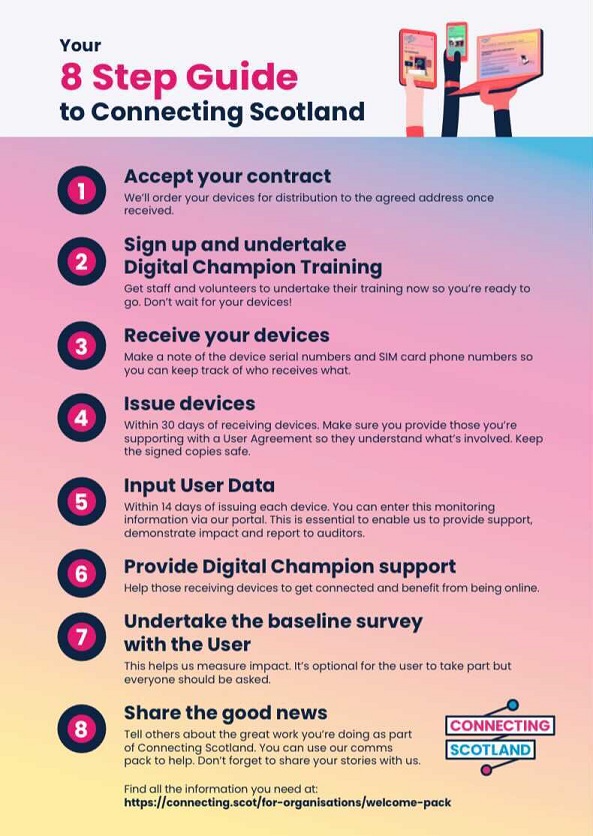 Download this 8 Step Guide for easy reference and share with your colleagues.
Delivery of your devices and Mi-Fi
We will request a delivery address when we issue your Organisation Agreement via DocuSign. We ask that you think about the most appropriate address to have the devices delivered to. You should bear in mind the likely size of the delivery, availability of personnel to take receipt of the delivery, and any restrictions in your area that may affect office opening hours.
We are unable to change your delivery address after we receive your signed Organisation Agreement. You will also be asked for an email address and a mobile phone number for whoever is responsible for taking delivery of the devices. The couriers usually notify you the morning of your delivery via email or SMS. If you miss your delivery we will be able to provide you with a tracking number so you can arrange for your delivery to be rescheduled. You should also be aware that your devices (iPads and Chromebooks) are despatched from XMA and your Mi-Fis are despatched from Vodafone. This means that they will usually arrive on different dates. If your order for devices is quite large then this may also arrive in more than one delivery.
What's included in your delivery?
Devices – either Chromebooks, iPads or a combination of both
Mi-Fi – a Mi-Fi device with a sim card (this includes a setup guide)
Booklets – printed iPad or Chromebook setup guides, or a combination of both (you can access online versions and videos at https://start.connecting.scot/). These are also available in different languages
Two copies of template user agreements for each device – one for you to get signed and keep, and the other for the user to keep.
iPad cover – all iPads come with protective cases
Delivering at speed
From the date you receive the devices and Mi-Fi (which ever comes latest) you have 30 days to deliver the device to the beneficiary. We ask that this is done quickly because the contract for the Mi-Fi is activated on the day it is despatched from Vodafone. Any Vodafone sim cards that show no data usage 3 months from the date of activation will be classed as unallocated and will be deactivated.
We note that many of your offices will be closed during the holidays. 24 December to 4 January (12 days) will not count towards this 30-day period.
Mi-Fi and connectivity
The default option for connectivity is a Mi-Fi devices provided by Vodafone. We understand that there are exceptional cases in rural communities where signal coverage may be an issue. If this is likely to be an issue please check the postcodes of your device recipients against the Vodafone Network Status Checker. When you complete your contract we will ask you to identify how many exceptions to Vodafone Mi-Fi you require. We will follow up these queries separately.
Your despatch note will suggest that you need to pair certain Mi-Fi devices with certain sims – this is not the case. You can use any of your sims in any Mi-Fi devices. You should be aware that we ask you to capture certain information about the people getting devices and which sim number they have been allocated. See 'User details' for more information. You can find your 11 digit sim mobile number in the envelope in the Mi-Fi box.
The contracts for connectivity are purchased as business sims under SCVO's account. This means that individual users are unable to speak to Vodafone directly. If there are any issues a Digital Champion can contact our helpdesk at help@connecting.scot In Phase 2 we are providing unlimited data for 24 months, subject to a Fair Usage Policy. The sim cards are automatically activated by Vodafone on the date of despatch. This is the start of the 24 month contract.
We want to avoid Mi-Fi devices being unallocated and unused. We can monitor whether or not data is being used on devices and we will therefore deactivate any sim cards that have used no data three months after the date of activation. We will check the number against the user details and notify you if we intend to deactivate the sim. You will also be asked to return the unused Mi-Fi unit.
Device ownership
As outlined in your Organisation Agreement, the device ownership is passed to the beneficiary. These devices are not permitted for use by organisations, as a lending library or to form part of your organisations assets.
Digital Champions
If you haven't already identified your Digital Champions, now is the time to get this in place. You can find more information about Digital Champions on our website at /digital-champions
We've also created a resource that you can use to help recruit Digital Champions. Feel free to use this or adapt it for your own needs.
Training for Digital Champions can also be booked via /digital-champions/training-2020 so please share this link with your teams. We're running two different training sessions:
Core Digital Champion Training – this 2.5 hour session explores the essentials of being a Digital Champion, delivering support remotely, and engaging with new learners who lack digital skills and confidence. This is the same session we delivered in Phase 1 of Connecting Scotland. If you staff/volunteers have already been on this training in Phase 1 they do not need to attend again, but we do ask that they attend our new training session for Phase 2.
Digital Champions for Families, Children and Young People – this 2.5 hour session is our new training for Phase 2. In this session we will explore some of the unique aspects of supporting families, children and young people to use the internet confidently and safely.
We deliver both sessions on Zoom and Teams a few times a week. We usually add in new dates three weeks in advance. This training will run up until Christmas, and resume in early January 2021 after the holidays. Digital Champions should attend at least one of these sessions, and they are encouraged to attend both.
We keep a record of the numbers of people attending from each organisation, from both Phase 1 and Phase 2. We would expect to see the appropriate proportion of Digital Champions from each organisation based on how many devices they have received. If you haven't released staff/volunteers for Digital Champion training as outlined in your Organisation Agreement we will follow-up with you individually. This could impact on your ability to participate in any future rounds of Connecting Scotland.
User details
As part of the Connecting Scotland Organisation Agreement you are asked to collect device beneficiary details and record the device and sim details against each person. If you were involved with Phase 1 of Connecting Scotland you will have received login details for the CRM to enter this information directly. We have changed this process for Phase 2. We have now provided an online portal to enter this information. You do not need login details to do this – it's essentially a web form.
We ask that all devices are allocated within 30 days of receiving them. We are therefore requiring all the user data to be returned via the portal no more than 60 days from the date of receiving your devices.
Click here for the User Data Portal
Why do we need this data?
Provide service user with support to use device and internet connection
Contact service user with important information regarding the project, device or internet connection
Contact service user to evaluate the success of the programme
Manage the mobile connectivity contracts
Produce anonymous statistical reports on the number of people who have received support
Provide auditors with evidence on how public funds have been spent
Evaluate the impact of digital exclusion, research and analysis to address wider inequalities
Each device will be shipped with 2 copies of the User Agreement – one for the user to keep and one to be signed and retained by your organisation. The User Agreement includes a Privacy Statement. This includes all the information we collect and the process for how individuals can manage how we use their data in Connecting Scotland. These Agreements must be given to each device recipient, and they accept the device based on the Terms and Conditions contained within this agreement. You should ask users to sign the User Agreement for your own records, but you do not need to return this to Connecting Scotland.
For information purposes we have included a copy of this agreement here:
The User Agreement is also available in an Easy Read format. Please note that this version is two documents, and both should be used together. The User Agreement and Privacy Notice have been split into two different documents to keep each document under 15 pages.
Evaluation
As part of our evaluation approach we're asking for assistance to record some baseline data. We're asking organisations to help complete a Welcome Survey with every person getting a device. If they do not wish to participate they don't have to, but everyone should be asked to participate. If you were involved in Phase 1 of Connecting Scotland please note that this is a different Baseline Survey, so please don't use your old link.
Connecting Scotland Welcome Survey
We will also ask for your help to complete a follow-up survey at 3 months. We would like to send this directly to the device recipients, so if you are able to capture an email address this would be beneficial. If we are unable to send this directly to the device recipients we will ask for assistance from you to share this survey.
We will also conduct some follow-up phone calls with device recipients as part of our evaluation approach, which is detailed in the User Agreement.
There is no formal report template we ask organisations to complete as part of Connecting Scotland but we may ask you to share case studies and participate in some evaluation interviews.
Comms
If you'd like to share your involvement in Connecting Scotland we have prepared a comms pack that you are free to use and adapt as you need to. If you're using social media you can tag the programme using #ConnectingScotland.
We encourage you to share your stories and pictures, where you've been able to obtain the appropriate consents to do so.
We want to share stories of your valued Digital Champion support to others too. Check out our 'Share your stories' guidance and templates for more information.
Further questions
We receive a high volume of queries but we always aim to respond as quickly as we can and within 2 working days. We'll continually update this page to address any further questions that you may have. If the answer to your question isn't here we will be happy to assist if you email help@connecting.scot
Older & disabled people
Families & care leavers
Care homes
Existing projects