Share your stories
Shirley's feeling less alone now that she can video call her family. Allan's feeling more positive now that he can order his shopping using his iPad. Kareem's confidence has gone up after enrolling on a course and the kids have been able to get their schoolwork done on the family's Chromebook.
These are all real examples of the impact of having a device, connectivity and the support of someone to help them.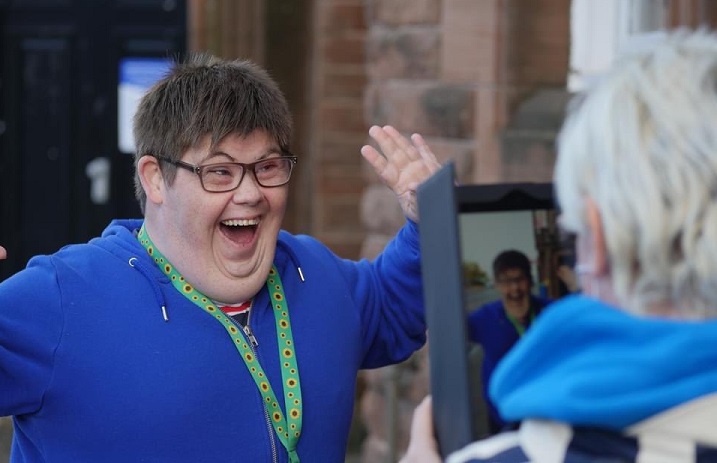 What's been the biggest impact that you've seen?
We want to share all these life changing stories. We want to celebrate you and your valued Digital Champion support. As part of the Connecting Scotland programme your work is #NeverMoreNeeded and we want to acknowledge this.
If you've helped someone improve their wellbeing or made their life a bit easier by using their device, then we want to hear from you. Maybe you've been on a bit of learning curve yourself having to deliver support remotely or you've seen your confidence and skill levels improve.
Hearing all your stories is vital. We're particularly keen to showcase a range of stories that represent the diversity of Scotland and the complexity of social exclusion. Not only do these inspire others in their inclusion work, it also influences the sector and helps build on best practice.
Below are some ideas, suggestions and templates to help capture your stories
Ideas on how to create your stories
Put people at the center
Stories are more impactful when they're about people. Whether it's about how the life of someone you've helped has changed or how you've learnt or overcome challenges to help them, putting the human at the heart of it is what others will connect with.
Feelings matter – how did the individual, family or you feel then and now.
It doesn't need to be chapter and verse. Short and snappy stories are often more impactful. A photo and a quote can still tell a good story. Check out our guide and templates below to help you capture what's needed.
Capture a moment
A photo or short video can really paint a picture. Check out some of the photos and videos already shared on Twitter using #ConnectingScotland. You can also find template tweets in our Connecting Scotland Social Media Pack linked below.
It's tough not being able to get together face-to-face in the same way we used to. It also makes capturing a photo or video a bit more challenging so you may need to be creative – a socially distanced photoshoot or a screen grab or recording from a video call.
You might even get the person you're helping to take a photo or record something and send it to you as part of building their confidence with using their device.
It doesn't have to be perfect
We know writing impact stories can feel a bit daunting. Writing or creating might not be your thing. That's where our guide and templates come in to help.
Keep in mind, we're not looking for polished stories. We can help add the finishing sparkle; we just need your help to gather the key details.
Most real stories don't have an end so don't feel it has to round off neatly. They aren't always about happy times either so don't be afraid to share the hard or challenging stuff too.
Things to keep in mind
You might look to capture the story of someone with accessibility needs or where English isn't their first language. Make sure you plan for this and make it as easy for them and you.
Remember to ensure you have consent to share a person or family's story or photo, see our guidance below.
Story templates
You might already have a guide or process for capturing stories for your organisation. Feel free to use this. Here's a template if you do need one for capturing the following:
The story of a person or household you are supporting
The story of a Digital Champion
The story of your Organisation's involvement in Connecting Scotland
You can also find template social media posts in the Connecting Scotland Social Media Pack below.
Consent
It's important the person you're sharing a story about is happy and comfortable for you to do so.
You can use our consent form below. Ideally this would be signed but we know this can be challenging right now. An email or recording of them agreeing to consent is also okay. Make sure you store it somewhere safe.
If you already have your own consent form and processes, please double check or amend it so it includes sharing with relevant third parties like Connecting Scotland, Scottish Government and SCVO.  
Best practice when getting consent:
Ask more than once – before, during and after. People may change their mind and that's okay.
Give them the option to anonymise their story. You don't have to use their real name or location for example.
Make sure they know they can withdraw their consent at any point, even after a story is published.
Explain why gathering stories like theirs is important. They really can make a difference to another person in a similar situation, to organisations looking to help and influencing how inclusion work is supported.
Sharing your stories
You can share your stories with us in a couple of different ways:
Directly via Social Media
Include #ConnectingScotland so we can find and share your stories
Tagging us helps us find you more directly – @scvotweets and @digiscot
Looking for inspiration? Check out the tweets we've received already, or you can find template social media posts in the Connecting Scotland Social Media Pack below.
We may follow up with you to see if a more in-depth story can be told which we can help you with.
Send us an email
Drop us an email on help@connecting.scot with your story, any photos or videos and contact details. We'll look to feature your story on the Connecting Scotland website.
Please note, we'll also look to share your stories on our social media, in our newsletters and presentations. This helps us to show the impact of your work for Connecting Scotland and across our sectors. We will always give you full credit as we know it's important to raise your profile too. By submitting your stories, you consent to us using them in this way