Spotlight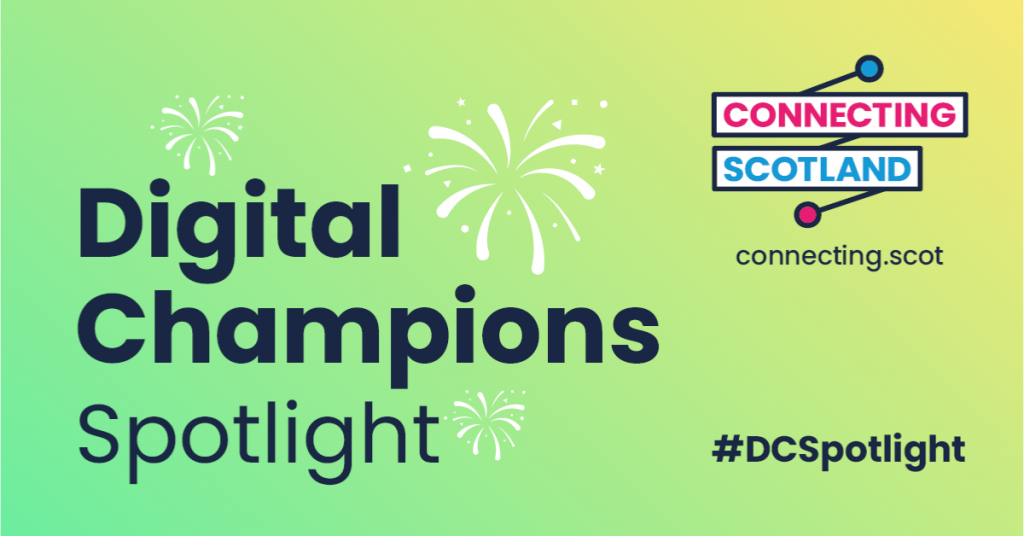 Our Digital Champions Spotlight offers an opportunity to engage in conversations, learning and support focused on different themes.
Spotlight 1: Connecting and Communicating (June 2021)
Our first Spotlight was focused on 'Communicating and Connecting'. This ran throughout June 2021 and we covered a range of resources and learning opportunities covering all the different ways your users connect and communicate with friends, family and services.
Check out some of our favourite resources on 'Connecting and Communicating'.
You can also read our full report, with insights from some of the amazing Digital Champions delivering Connecting Scotland.
Spotlight 2: Education (August 2021)
Our second Connecting Scotland Spotlight focused on the theme of Education, running from the 16th to the 20th August. It explored how technology can be used to promote lifelong learning; whether it's helping students attend classes, watching videos to learn new skills or participating in free online courses and much more!  
Check out some of our favourite resources on 'Education'.

Why get involved?
Learn from other Digital Champions
Share your best practice and helpful hints to support other Digital Champions
Showcase the great work your organisation is doing through Connecting Scotland
Contribute to Connecting Scotland resources that future Digital Champions will be able to use
How do I get involved?
In the run up to Spotlight Week we want to hear from you. Share your top tips and things that have helped your users connect and communicate with others. You can do this n a variety of different ways:
Share your ideas on Twitter using #DCSpotlight
Be part of the conversation on our Slack workspace
Email us with your top tips, ideas, blogs or case studies and we'll feature them during Spotlight week – rory.brown@scvo.scot
We're looking for 30-60 second clips from you, explaining which app or website you have learned about in the last month, why it's so great and why you would recommend it to others working in the sector. If you've got something in mind and would like to contribute, send your clip to rory.brown@scvo.scot by Thursday 12 August!
Take part in a video case study to showcase the great work you and your organisation is doing to support digital inclusion. You can send us your own video or we can record it on Zoom – we'll even do the editing for you. Here's an example from Raploch Community Initiative: